Intern program benefits Stutsman County students, employers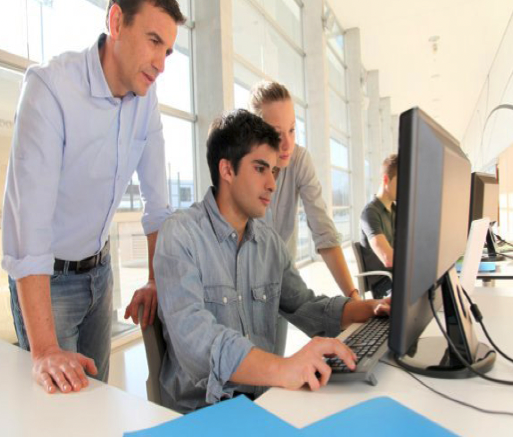 Businesses across all industries throughout the nation cite worker shortages as a chief concern. In Stutsman County, many employers worked with a new local program promoting internships to introduce workers to the possibilities of local careers. Employers recognize the valuable benefits of developing meaningful relationships with students before graduation.
"We rely heavily on internship relationships to grow our workforce and business," said Shea Herbert, Senior Engineering Manager with Jamestown's Collins Aerospace. "Most of our college graduate new hires come from previously established internship relationships, so participating in the internship program is vital to our continued success in Jamestown."
Collins Aerospace was just one local employer involved in the 2021 Jamestown/Stutsman Development Corporation (JSDC) Internship Reimbursement Program, designed to increase the number of local internships and assist employers in workforce recruitment and retention. The Program reimburses employers up to $3,500 for the payroll costs of university/college students hired as interns. Qualified employers must be located in Stutsman County and pay the intern at least $15/hour.
The first year of the program was quite successful. Sixteen interns participated with area businesses from eight colleges or universities, amounting to a total payroll of $281,309.80. JSDC approved reimbursement of $53,175. Participating employers included Advantage Electric, BluFrog Realty, Cavendish Farms, Collins Aerospace, Dalsted & Ryan P.C., Farmers Union Insurance, First Community Credit Union, REMAX Now and Stutsman Harley Davidson. Many offered employment or had discussions for future jobs with most interns.
Business benefits
Participating in the Program is more important than ever for local businesses struggling to find qualified workers. Companies like Advantage Electric, a full-service electric contractor in Jamestown, are experiencing increasing demand for their services while having a hard time finding younger employees to fill the void left as older employees retire.
"We are doing everything we can to hire young workers," said Casey Dockter, co-owner of Advantage Electric. "Losing an experienced tradesman is difficult to replace because they have so much institutional knowledge of customers."
For Tania Falk, CFO of Farmers Union Insurance, participation in the program is a way to pay it forward for the community, as she had served in several internships while at the University of Jamestown.
"As a student, I recognized the value of my experiences and now I strive to be able to offer that same opportunity to others," she said. "This past year, we had one internship originally planned but decided to have two internship positions upon learning of the JSDC program, one of which we were thrilled to be able to extend beyond the original timeframe proposed."
Intern experience
The Program offers interns valuable experience in roles of interest to them while still in school. Collins Aerospace interns were integrated into various teams, becoming contributing members towards the completion of projects. Responsibilities ranged from designing and testing parts in the engineering department to helping with process improvements on the operations side. Herbert said that experience is crucial to a student's professional development.
"As students are making their way through their degree, it's critical they have opportunities to be exposed to the various industries that they could potentially end up working in after graduation," he said. "Internships are the conduit for providing that industry exposure, thus allowing students to find the industry they are passionate about before they graduate."
Beyond filling a need at the company, the Program helps illustrate the classroom concepts a student has learned with real-life experiences and practical application because every company has nuances with business workflows, software, regulatory requirements and company culture, said Falk.
"Our goal is to give an intern the experience working in multiple facets of accounting, from processing transactions to the end result of the reporting and analysis, as well as observing how it all comes together for regulatory and management reports," she said. "It allows students a chance to explore our industry to help guide them in what they want to pursue after graduation."
Dockter hired one intern to serve as an apprentice, learning on the job with current electricians and he plans to hire him this spring after graduation from North Dakota State College of Science in Wahpeton. Dockter went further than the JSDC Internship program by working with the ND Career Builders program, which provides matching funds to help North Dakota businesses recruit employees. The program partners with private businesses to match funds on scholarships or loan repayment, up to $17,000 per recipient.
"We need these programs to keep these guys in our industry," he said. "It helps us gain employees and helps the interns reduce their student debt while learning how to do the job."
Program continues
Based on its success, the intern program will continue, with JSDC approving intern applications on a "semester" basis, for internships in three buckets: May through August, September through December and January through April. The next round of applications are due by August 30th, 2022. The application should be completed in full, including a detailed description of the desired intern position in the company and then sent for consideration to JSDC, which will review and award recipients.