Lifestyle
Tourism
Don't forget your camera--with two lakes, 30 miles of hiking and biking trails, more than a dozen family-friendly attractions (most of them free), and festivals happening year-round, Jamestown is a treasure trove of memories-in-the-making for your family.
Whether you prefer to pass the time hunting and fishing, strolling through museums, sampling the menu at a fine restaurant, absorbing Old West history, or just soaking up the sun on a sandy beach, we have what you've been looking for.
More Information
---
Arts
Experience the true culture of North Dakota with the Stutsman County Museum, the Buffalo Museum, the Arts Center...there's even an Amateur Theatre for those that love to be involved. And, with Jamestown College's Reiland Arts Center hosting constant cultural activities, even the largest arts enthusiast will find it hard to fit everything in their schedule. All cultural events and performances presented by the College through this facility will be open to the public.
More Information
---
Golf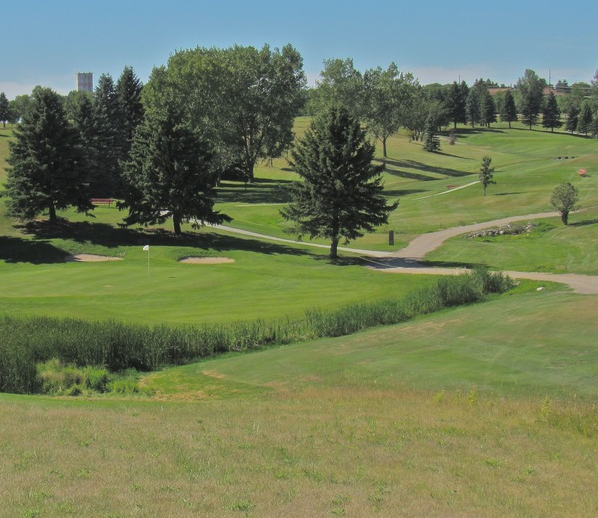 The Hillcrest Golf Course is an 18-hole grass course, which is operated by the Jamestown Parks and Recreation Department. Some of the conveniences available at Hillcrest include: a driving range, practice putting green, and golf cart storage units. Within the clubhouse there is a pro shop, rentals of golf carts and clubs, locker rentals, lessons (private and group), concessions, and a conference room that is available for rent. Ladies Day is on Tuesday and Men's Day is on Thursday. For more information or tee time please call the clubhouse at 252-4320.
More Information
---
History
Frontier history is alive and well in Jamestown and throughout the region. Fort Seward provided protection for the railroad workers building the Northern Pacific railroad from 1872-1877. A scale model of the entire fort can be found in the interpretive center, as well as artifacts from the on-going archaeological dig. Free viewing, Memorial Day to mid-September. While there be sure to try your hand at their archaeological dig site. 
One of the state's most seen tourist attractions can be found in Jamestown at the Frontier Village. While at the village, you can expect to see an authentic old west town with free viewing. Local artists gallery, craftsmen pieces and souvenirs are available. Buildings open May to October.
More Information
---
Parks & Rec
Whether your playing softball, going for a walk or taking the kids to play, Jamestown offers an array of parks and trails to anyone that wants to enjoy the beautiful scenery. Twelve softball fields, 8 soccer fields, 9 tennis courts, a jogging and exercise trail and 8 parks of varying sizes grace the community. 
Jamestown's Parks and Recreation Department provide a wealth of activities to choose from year round for all ages. Come experience our community's parks for yourself.
More Information
---
Sports
The Jamestown Speedway is a 1/4 mile, high banked, dirt track. This track offers exciting Wissota Modified, Wissota Street, Bomber, and Road Hog action every Saturday night!! It's also the home of the Stock Car Stampede which is the largest race of the season averaging 250 cars. The new improvements this year will make for an exciting racing season. Hope to see you there! 
The Jamestown River Rodeo Association features a quality outdoor arena and presents spectator and participant opportunities throughout the summer. From barrel racing and team roping to a full performance rodeo and hosting the NBHA finals, the local arena continues to improve and garner state and national attention and events.
More Information 
---
Water
For the outdoorsmen, the Jamestown Reservoir covers 2,095 surface acres and has 45 miles of shoreline. It is located 2 miles north of Jamestown and features a modern campground, concession, boat rental, and primitive camping. Public use area open 7 days a week. Overnight camping, water, and electric hookups. Available species include pike, walleye, crappie, bluegill, small mouth bass, muskie, and bullhead. The area is managed for Reclamation by the Stutsman County Park Board. 
The Jamestown Reservoir and Pipestem Dam provide every opportunity for water sports. . . boating, sailing, fishing, water skiing . . . you're limited only by your imagination. Recreation areas include highly developed campgrounds and day use areas, moderately developed areas, and primitive areas. Recreation opportunities include camping, picnicking, fishing, hunting, boating, water skiing, swimming, bird watching, hiking, biking, and photography.
More Information